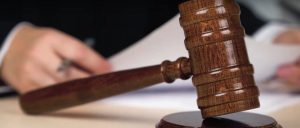 Court records are widely used for a multitude of purposes but whatever your specific reason, their main objective is to provide information. To put it simply, court records provide data in black and white. Ask a Lawyer.

Instant Court Records Search
Criminal Court Records, Civil Court Records, Traffic Court Records
Federal, State, County & Municipal Sources and Much More!

Search for Cases from April 23, 1973 to March 5, 2021
A (20303 rec)
B (12103 rec)
C (20785 rec)
D (17195 rec)
E (9514 rec)
F (6508 rec)
G (9277 rec)
H (5813 rec)
I (3155 rec)
J (30275 rec)
K (9211 rec)
L (11814 rec)
M (24300 rec)
N (7217 rec)
O (2805 rec)
P (8973 rec)
Q (344 rec)
R (18550 rec)
S (25270 rec)
T (13511 rec)
U (20589 rec)
V (3946 rec)
W (5020 rec)
X (366 rec)
Y (1627 rec)
Z (756 rec)
Plaintiff /
Defendant Name
Petitioner /
Respondent Name
Filed, Nature of Suit, Judge
Haleja Munoz
More Information

TD Auto Finance LLC
# 5:2021cv01258 -
Contract: Other §28:1332
Judge: Virginia K DeMarchijury demanded by Plaintiff
Hope Dunn
More Information

Inc., Costco Wholesale Corporation, Massimo USA Zanetti Beverage
# 2:2021cv01751 -
Other Fraud §28:1332
jury demanded by Both
Heather Rodriguez
More Information

Accellion, Inc.
# 5:2021cv01272 -
Other Fraud §28:1332
Judge: Susan van Keulenjury demanded by Plaintiff
Henk Meyers
More Information

Alphabet, LLC, Google, Google Arizona LLC, Inc., Google Payment Corp.
# 2:2021cv01767 -
Contract: Other §28:1332
Judge: Maria A Audero, Fernando M Olguinjury demanded by Plaintiff
Hoang Minh Le
More Information

FRANKLIN REAL ESTATE, L.P., a Delaware limited partnership
# 5:2021cv00337 -
Civil Rights: Americans with Disabilities - Other §42:12101
jury demanded by Plaintiff
Hoxworth Carolina Erica
More Information

Bruce Marshall
# 2:2021cv01784 -
Motor Vehicle §28:1441
jury demanded by Both
Hyun Park
More Information
Yvonne Park
More Information

LLC, Select Portfolio Servicing
# 5:2021cv01384 -
Real Property: Foreclosure §28:1332
jury demanded by Plaintiff
Heather Bright
More Information

Mother Murphy's Laboratories, Eby-Brown Company, Altria Group Distribution Company, Adam Bowen, Core-Mark Holding Company, Inc., Inc., LLC, Altria Client Services LLC, James Monsees, Inc., Inc., Juul Labs, Riaz Valani, Altria Enterprises LLC, , eLiquitech
# 3:2021cv01405 -
Personal Inj. Prod. Liability §28:1332
Judge: William H Orrickjury demanded by Plaintiff
Alfredo Hernandez
More Information
Monica Hernandez
More Information

PRCO, Victor Valley Federal Credit Union, Inc.
# 5:2021cv00346 -
Other Statutory Actions §15:2301

Hartford Underwriters Insurance Company
More Information

Canopy Energy
# 2:2021cv01930 -
Contract: Other §28:1332

Hugo Elliott
More Information

Pubmatic, Inc.
# 3:2021cv01497 -
Personal Property: Other §28:1332
jury demanded by Plaintiff
Harford County Public Schools
More Information

Altria Group, John Does, Nu Mark LLC, Philip 1 Morris USA Inc., through 100 inclusive, Altria Client Services, Altria Group Distribution Company, Juul Labs Inc., Inc.
# 3:2021cv01531 -
Personal Inj. Prod. Liability §28:1332
jury demanded by Plaintiff
HML Holdings
More Information

Tamara Romero, Eric Romero, Romeros LLC, DOES 1 through 5, Denise Romero
# 3:2021cv00380 -
Contract: Other §28:1332
Judge: Cynthia Bashant, Barbara Lynn Majorjury demanded by Plaintiff
Back in 1968, the California Public Records Act was passed by state legislature and signed by the then-governor Ronald Regan. The act was put in place to ensure that court and public records would be available and open to the public, without an individual having to disclose why they are requesting said records. This is similar, but not exactly the same as the Freedom of Information Act.
Records can be obtained offline via the following address:
Federal Records Center
1000 Commodore Drive
San Bruno, CA 94066-2350
Phone: (650) 238-3500
Fax: (650) 238-3507
E-mail: sanbruno.reference@nara.gov